The Rata Track: Native NZ Trees
The Rata Track is a majestic and beautiful all-year short walk that combines large native NZ trees, beautiful nikau groves and great views of the Hauraki Gulf through the bush-clad slopes west of Long Bay.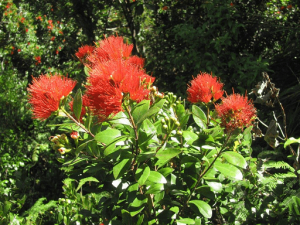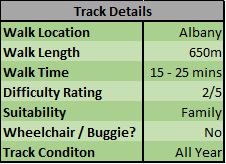 Navigation links:
Google Map: The Rata Track Google Map  Geochaching: Geocaching map
Why walk this track?
The Rata Track loops its way through a variety of quite beautiful NZ Native Bush, punctuated by many flowering varieties and a number of larger trees.
Flowering natives include the bright red rata that are best seen in February / March and the native Christmas orchid – seen attached to a cabbage tree near the 'nikau' sign.  A little further on a very luxuriant creeper, the keikie vine can be seen.
The track features a grove of trees, mostly  kahikatea interspersed with nikau and cabbage trees.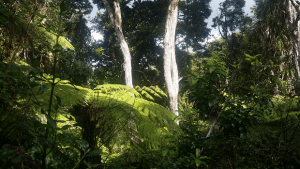 A number of large trees are witnessed throughout this walk including a few huge 20m (approx) high kanuka (variety of teatree).  The NZ Botanical Bible (Poole & Adams) describe kanuka as growing to heights of 12 to 16 meters – these are about 4m higher than this!
Two 30m+ kauri trees can be witnessed on this track as can a similar sized miro and some large puriri.
The birdlife is also very evident as you walk through the bush, hearing the chirping of fantails and the song of the tui.
This walk may only be just over 600m but it is a must-do short walk!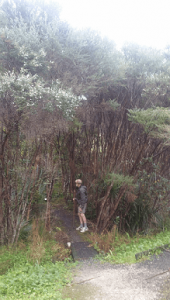 Entry Points:
The Rata Track has 5 entry points that are shown on the google map below.  They are:
At the end of Helen Ryburn Place
Glevnar Rd near the top corner
Glenvar Rd at the Satellite Tower
Fitzwilliam Drive – at the end of main row of the houses heading up the hill
Connection from the Kate Shepherd Track
Parking is best at Helen Ryburn, Fitzwilliam and the Satellite Tower entrances.
Track Highlights: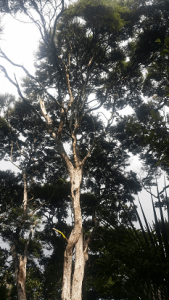 The Rata Track may only be quite short but is full of stunning bush.  The main highlights include:
Huge kanuka trees at around 20m in height
2 x 30m+ kauri trees
Lovely nikau groves
NZ native Christmas orchard
Plenty of birds to enjoy
Running and walking:
This track is fine for both walking and running.  By itself it is perhaps short for a run but consider running it in conjunction with the Kate Shepherd Track and tracks of the Fitzwilliam Reserve.  This track is quite steep and has a number of stairs so probably best for the fitter, more experienced trail runner.
Wheelchairs and Buggies:
This track is not suitable for wheelchairs and buggies.  It is narrow in places and has a lot of stairs.
Geocaching Status:
This track has Geocaching.  This link will lead you to the geocaching page for this track:
Geocaching Link for The Rata Track
Summary:
The Rata Track is a short, beautiful and relatively steep track.  It is a track that contains amazing examples of native kauri, puriri and especially the huge tea tree.  If you want a longer walk, consider linking with surrounding walks.
Green = entrances, Yellow = points of interest, Blue = entrance to another track
*** Note: if using this map for navigation on your phone or GPS device, you will need to open it within Google Maps to get your current position showing on the map.  To do this, simply click the expand icon in the top right corner of this map.  This will now provide you live GPS tracking as you walk the map so you always know exactly where you are!  WOW!

The Rata Track Video
This 3 1/2 minute video provides clips of beautiful The Rata Track.