Fitzwilliam Reserve Track: Scenic Bush Track
This is a short and steep track that contains wonderful native bush and beautiful views from the top of Fitzwilliam Drive – in fact one of my favourite views in Auckland.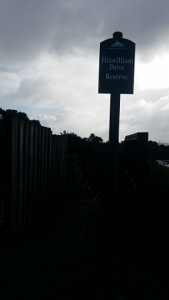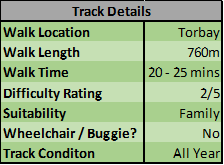 Navigation Links:
Google Map: Fitzwilliam Reserve Track
Geocaching Map:  Fitzwilliam Geocache Map
Quest:
Complete your Quest online as you walk the track
Download pdf file to print and fill in manually
Why walk this track?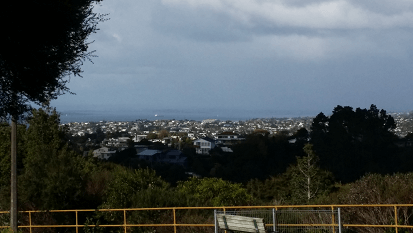 This is a short but challenging walk with beautiful bush.  The views from the top of Fitzwilliam Drive are also amazing – 270 degree views back towards Auckland and all the way out over the Hauraki Gulf.  An interesting feature is a disappearing stream just after the fork in the track – it resurfaces further down the hill towards Emlyn Place.
This walk includes pretty ferns and nikau, as well as rimu, lancewood and tanekaha.
This track is short and is ideal for a quick walk in the bush or a nice addition to The Emlyn Reserve Track and The Rata Track.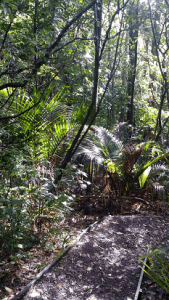 Track Entry Points:
There are four main entrances to the Fitzwilliam Reserve Track in Torbay:
Entrance 1 = between 76 & 78 Fitzwilliam Drive
Entrance 2 = at the end of Dee Place
Entrance 3 = between 19 & 21 Emlyn Place
Entrance 4 = between 332 & 334 Glenvar Rd
The best parking are at Entrances 1, 2 & 3.  Parking on Glenvar Rd is limited.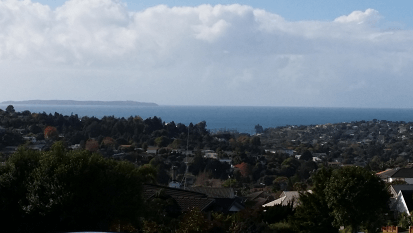 Track Highlights:
The highlights of this track are
beautiful views from the top of Fitzwilliam Drive
lovely native bush
Running and walking:
This track is great for a short walk in beautiful bush.  The track is pretty steep in places, so be prepared for some hills!
The track would be fine to run but the hills would certainly make it a challenge.  Perhaps, run along with The Emlyn Reserve Track and it would make a good circuit – maybe do not run up to the Glenvar Entrance as this part is particularly steep.
Wheelchairs and Buggies:
This track is not suitable for wheelchairs and buggies as it is steep and has a quite a few steps.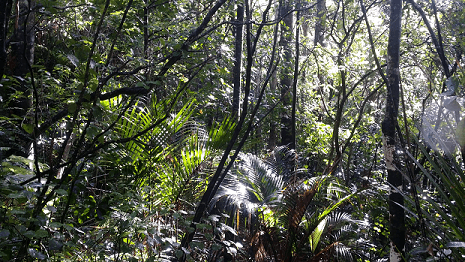 Summary:
This track is worth a walk but best incorporated with The Rata Track and Emlyn Reserve Track.  The views from the top of Fitzwilliam Drive are spectacular and some of the bush is beautiful.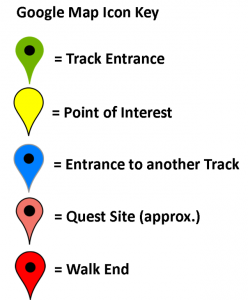 *** Note: if using this map for navigation on your phone or GPS device, you will need to open it within Google Maps to get your current position showing on the map.  To do this, simply click the expand icon in the top right corner of this map.  This will now provide you live GPS tracking as you walk the map so you always know exactly where you are!  WOW!

Note the hilly sections are the Fitzwilliam Reserve Track and the flatter sections The Emlyn Reserve Track.
The Google Map and Elevation Chart used in this Post have been produced using the Tom Tom Multi-Sport Cardio GPS Watch. This watch tracks running, cycling, swimming and freestyle, and includes built in heart-rate monitor – and I love it!  Check out the Tom Tom Cardio Watch or check out a wider range of GPS watches and Fitness Trackers.  Enjoy – they add another dimension to exercise.