The Emlyn Reserve Track: kauri trees in Auckland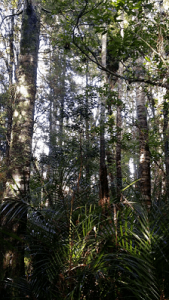 The Emlyn Reserve Track is a very scenic short walk, following a pretty stream and where you are privileged to see a grove of approximately 40 significant kauri trees in Auckland. It is also unique for the Dam that is built in the luscious grass reserve to act as extra protection in periods of heavy rain.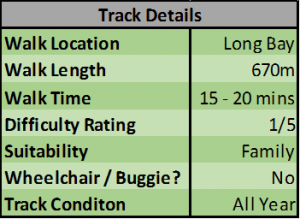 Navigation Links:
Google Map: Emlyn Reserve Track Google map
Geocaching: No geocache current for this track
Why walk this track?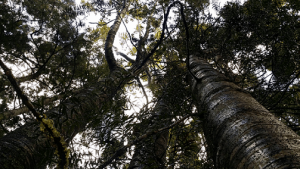 The Emlyn Reserve Track is short, easy, beautiful and contains a number of really interesting features.  The track is only 670m long but boasts a host of kauri's, a dam, very large kahikatea, an historic fence post and a lovely stream that the track follows for much of its outward journey.
The track is suitable for most walkers as it is not steep and has a good quality track surface.  There are places that are a little narrow and some tree roots but overall most people should be capable of completing this walk.
For a longer walk, combine it with the Fitzwilliam Reserve Walk and perhaps The Rata Track also.
Entry Points: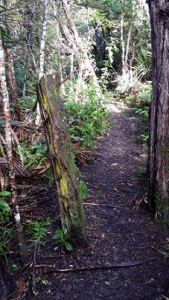 The Emlyn Reserve Track has 2 entry points that are shown on the google map below.  They are both on Emlyn Place.
There is plenty of parking in the vicinity as Emlyn Place is a quiet no-exit street.
Track Highlights:
The main highlights of the Emlyn Reserve Track include:
Kauri grove of approximately 40 significant kauri trees – approx 30m in height
The track follows a nice stream
Large kahikatea
Items of interest such as the Dam and historic fence post
The large earth Dam has been artificially created to hold back rain after heavy rain, and a small amount of concrete spillway can be seen in the middle.  No locals can ever remember seeing the flood waters ever rising over the top of the Dam, but the Awaruku Stream that starts here is thus prevented from ever carrying away everything before it in extreme storm as it makes its way to Long Bay.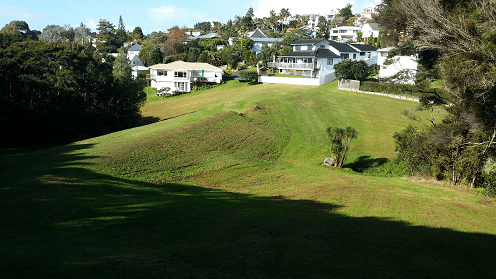 Running and walking:
This track is good for both walking and running.  By itself it is perhaps short for a run but consider running it in conjunction with the Rata Track and Fitzwilliam Track.
Geocaching Status:
There is currently no known geocaching available on this track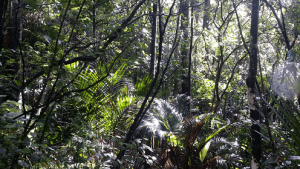 Summary:
This is a lovely track that deserves a nice stroll sometime. It is a nice, relaxing and beautiful walk that can take you away from the hustle and bustle of the city, even though you are still close to houses.  The extra interesting features such as the kauri grove and Dam make it extra fascinating.
Green = entrances, Yellow = points of interest, Blue = entrance to another track, Red = finish point
*** Note: if using this map for navigation on your phone or GPS device, you will need to open it within Google Maps to get your current position showing on the map.  To do this, simply click the expand icon in the top right corner of this map.  This will now provide you live GPS tracking as you walk the map so you always know exactly where you are!  WOW!