Kate Shepherd Track
The Kate Shepherd Track is a relatively easy walk through more beautiful NZ Native bush left behind from development in Torbay.  It joins onto the wonderful Rata Track and when completed together makes an interesting decent length walk.  This track is especially renowned for its kahikatea's, ferns and a large Matai – very rare in these tracts of bush.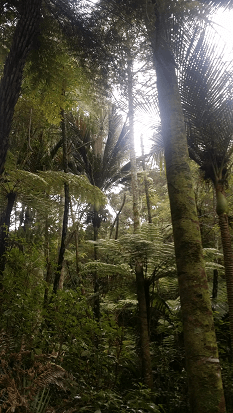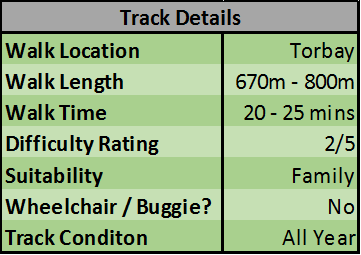 Navigation Links:
Google Map: Kate Shepherd Track
Geocaching Map: No current Geocache
Quest:
Complete your Quest online as you walk the track
Why walk this track?
This Track is another pretty walk through the bush in Torbay.  It is home to some good sized kahikatea, plenty of ferns and nikau, and one very good Matai tree.  The Kate Shepherd Track is a relatively easy bush walk that enables most people to access beautiful New Zealand bush.
It also benefits from joining with the very beautiful and interesting Rata Track.
Track Entry Points:
There are multiple entrance points to the Kate Shepherd Track.
Entrance 1: Corner Helen Ryburn Place and Kate Shepherd Ave
Entrance 2: Between number 23 & 25 Kate Shepherd Ave
Entrance 3: From the end of Elsfield Place
Entrance 4: From the end of Corwen Place, next to number 5
Entrance 5: From the end of Helen Ryburn Place via The Rata Track
All entrances have plenty of parking available on the roads.  All roads are quiet suburban streets.
Track Highlights:
The Kate Shepherd Track is a picturesque bush walk that delivers interesting and varied NZ native bush.  It is a relatively easy walk, not being as steep as the Rata Track or Fitzwilliam Reserve Track.  The following are main highlights:
Large matai tree not far from entrance 2 (as given above)
Large kahikatea trees
Ferns and nikau's throughout the walk
Running and walking:
This track can be comfortably run or walked.  The track is in good condition and not as steep as other nearby tracks.
It can be completed as a loop by walking the road between Entrance Point 1 and Entrance Point 2.
Consider linking with The Rata Track to extend the walk.
Wheelchairs and Buggies:
This walk is not suitable for buggies or wheelchairs as there are a few steps.
Disclaimer: Stating this track can be completed in a wheelchair or buggie does not mean it meets standard health and safety regulations. There may be parts of the track that are steeper than wheelchair health & safety requirements and parts of the surface that are not as per regulations.  It does indicate the track can be enjoyed with reasonable care, even if at times a little extra effort and care may be required.  greataucklandwalks.com can not be held liable for any accidents that may occur on a recommended track.  People use the tracks at their own risk and with due care.
Summary:
A nice short walk that is suitable for most walkers.  The track is all weather but not paved and is hilly but overall not too steep.
The Kate Shepherd Track contains a lot of of lovely native bush and a few larger trees.  The most unique feature is the large matai tree that is certainly worth a look as they are reasonably rare in this area.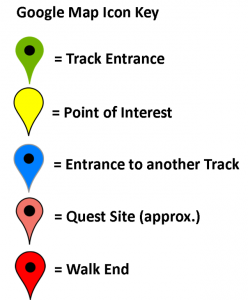 *** Note: if using this map for navigation on your phone or GPS device, you will need to open it within Google Maps to get your current position showing on the map.  To do this, simply click the expand icon in the top right corner of this map.  This will now provide you live GPS tracking as you walk the map so you always know exactly where you are!  WOW!

The Google Map and Elevation Chart used in this Post have been produced using the Tom Tom Multi-Sport Cardio GPS Watch. This watch tracks running, cycling, swimming and freestyle, and includes built in heart-rate monitor – and I love it!  Check out the Tom Tom Cardio Watch or check out a wider range of GPS watches and Fitness Trackers.  Enjoy – they add another dimension to exercise.